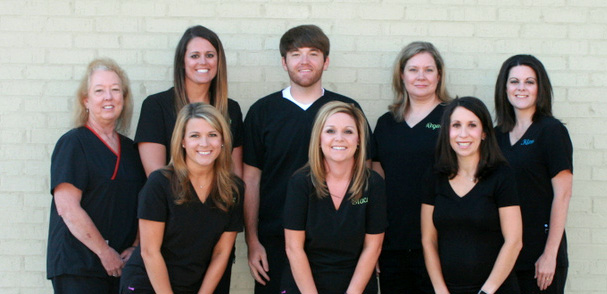 Casey
Dental Assistant
Hi and welcome to Smile Center of Meridian! I've been part of our team since 2007 and enjoy becoming friends with patients. I'm looking forward to meeting you and learning about your life. I'll help you during visits, making sure you're comfortable in the chair, preparing you to see Dr. Weathers, and explaining what will happen. Then I'll assist the doctor while keeping you updated. At the end, I'll provide post-op instructions, answer questions, and make sure you're happy with everything.
I love time with my husband, Stacy, and watching our two kids, Lexie and Lilly Grace, play sports. Our family has two dogs, Sassy and Daisy, too. I also volunteer at Northpark Church.
Donna
Office Manager
Hello, I'm Donna and I'm looking forward to welcoming you to Smile Center! I've been working in the dental field since 1971 and joined our practice in 1997. We serve an amazing community; it's wonderful to help our neighbors develop healthy smiles! I answer our phones, set appointments, and work with insurance companies to make sure patients get the most from their benefits. I'll explain your treatment plan and fully answer your questions so you can make educated decisions about your care.
Family is the most important thing in my life. My life is shared with my husband, Mike, and we have a son, Travis, along with two grandchildren, Joe and Harley. I enjoy fishing and traveling and exploring the history of the United States.
Jessica
Registered Dental Hygienist
Hello and welcome! It's my job to help you take control of your oral health. I've been part of the dental field since 2007 and started at Smile Center of Meridian in 2013. I love helping people feel confident in their beautifully healthy smiles! I'll take X-rays, examine your mouth for signs of dental disease, and thoroughly and gently clean your teeth. A lot of our time together will focus on your oral health. Together, we'll find the right processes that will keep your teeth and gums healthy and smile looking its best!
Outside of the practice, I enjoy traveling, camping, and boating with my husband Talbert. We have a wonderful daughter, Layla, and two dogs, Ace and Reeses.
Kim
Front Desk and Head of Marketing
Hi, I'm looking forward to meeting you! I'll be one of the first smiles you see when you arrive and I'm here to help. I found my home at the Smile Center in 2015 after starting in the dental field in 2008. It's a joy to work in a supportive, friendly office where our patients are cared for like family. I'll help you schedule appointments at times that work with your busy life. I also handle pre-treatments and post insurance payments. Additionally, I'm in charge of our marketing efforts and love telling our community about the gentle, family-friendly care we offer.
Outside of work, I love time with my husband Adam and kids, Beckett and Bennett. My family and friends are important to me. We enjoy going to the beach and supporting Mississippi State football!
Monette
Registered Dental Hygienist
Hi! It will be my pleasure to help you develop and keep great oral health, so you have a smile you love to share. Our patients feel like part of my family and I'll make your comfort a top priority. I joined our team in 2010, after starting in the field in 2008, and love the friendships I've made. While I'm examining your mouth and cleaning your teeth, I'll teach you. I want you to know what's happening in your mouth and how you can improve your dental hygiene. Seeing a healthy smile at a recall visit makes my day!
My husband David and I have a son, Ryan, and two boxers. I love being outdoors, especially running. I also like traveling, cooking, shopping, and time with family. I'm a member of the Junior Auxiliary and St. Patrick's Catholic Church.
Regina
Registered Dental Hygienist
Welcome to our office! I began here in 2012 after earning my dental hygiene degree from Meridian Community College in 1994. My days consist of cleaning teeth, taking diagnostic images, and providing education on how to achieve and maintain good oral health. I love meeting new people and helping them to feel at home in our fun, friendly office.
I have been married to Jay for 21 years and we have three children: Lindsey, Duncan, and Tyler. Spending time with my family is what I love the most!
Stacy
Dental Assistant
Welcome to Smile Center of Meridian! We have a wonderful team and Dr. Weathers is so gentle. We're all here to help you develop great oral health and will have you smiling at each visit. I've been with the practice since 1999 and cannot imagine a more supportive, helpful environment. I will seat you, make sure you're comfortable, and talk about what the doctor will do. Sitting chairside, I'll assist Dr. Weathers. When we're done, I'll answer your questions, provide home care instructions, and check that you're happy with the care we've provided.
My husband Benji and I have two sons, Ben and Lathan, along with three dogs, Scrappy Doo, Spot, and Rudy. Benji and I love watching our sons play baseball.